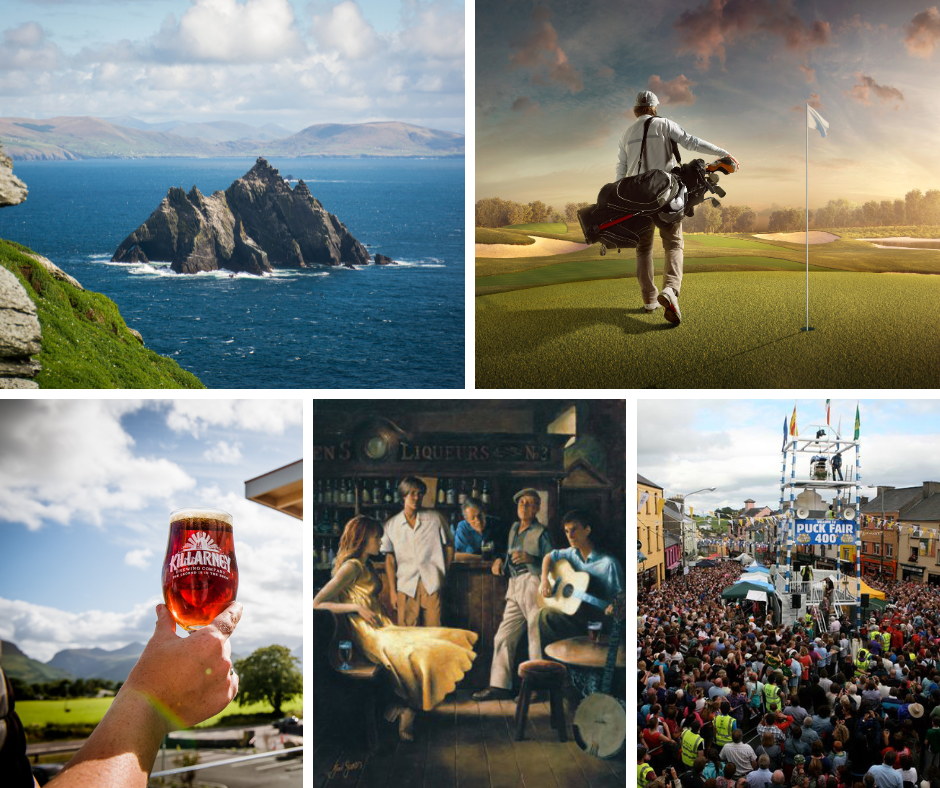 20 Reasons To Visit Kerry
With so much to see and do in and around Killarney and County Kerry, it might be hard to know where to start when tailoring your trip.
Read on for inspiration about some of the amazing experiences you can enjoy on your next visit to Killarney. 
1) Ring of Kerry
The famous scenic drive around the Ring of Kerry showcases some of Ireland's most picturesque coastal scenery.
2) Killarney National Park & Macgillicuddy's Reeks
The park is a UNESCO Biosphere Reserve, featuring diverse ecosystems, ancient woodlands and Ireland's highest mountain, Carrauntoohil.
3) Lakes of Killarney
Muckross Lake, Lough Leane and Upper Lake provide a picturesque backdrop for boating, kayaking and fishing.
4) Ross Castle
A 15th-century tower house on the shores of Lough Leane offers historical tours and scenic walks.
5) Gap of Dunloe
This narrow mountain pass showcases stunning vistas, perfect for a romantic hike or a horse-drawn carriage ride.
6) Traditional Music
Tap your feet and slap your leg to an Irish dancing show or lively traditional music session in one of Killarney's many pubs.
7) Muckross House
This magnificent Victorian mansion is surrounded by beautiful gardens, showcasing the lifestyle of the 19th-century landed gentry.
8) Torc Waterfall
A picturesque waterfall with walking trails suitable for all abilities and ideal for a peaceful walk in nature.
9) Jaunting Car Tours
Enjoy a horse-drawn carriage ride through the national park and around the charming streets of Killarney.
10) Golfing Paradise
Kerry offers world-class golf courses, including the picturesque Irish Open course in Killarney as well as Ballybunion and Waterville where you can enjoy a round of golf amidst stunning coastal scenery.
11) Skellig Islands
Take a boat trip to the Skellig Islands to explore the ancient monastic settlement and witness the diverse wildlife.
12) Slea Head Drive
This spectacular coastal drive on the Dingle Peninsula offers dramatic cliffs, historical sites and breathtaking ocean views.
13) Killarney Brewing Company
Discover the art of craft beer brewing and enjoy a tasting session at the brand new local brewery in Fossa. Stay for dinner and enjoy the splendid mountain view. 
14) Festivals and Events
Experience the vibrant atmosphere of festivals like the Rose of Tralee or Puck Fair, celebrating traditional Irish culture and entertainment.
15) Gourmet Delights
Taste the flavours of Kerry from fresh seafood, the best of meat, handmade artisan cheeses and so many more traditional Irish dishes. Dine in style in Kingdom 1795, Killorglin for a little taste of heaven.
16) Art Galleries
Killarney is home to numerous art galleries where you can appreciate and purchase works by local and renowned Irish artists. Check out the work of Ted Jones, an amazing talent and good friend of Dan Linehan's.
17) Watersports
Take advantage of Kerry's coastal location and enjoy a range of watersports such as surfing, kayaking, sailing, windsurfing and more.
18) Horse Riding
Enjoy a scenic trot on horse back through the countryside, with equestrian centres and trekking options available in Killarney and surrounding areas.
19) Gaelic Games
Immerse yourselves in the local sports culture by attending a Gaelic football or hurling match. Lose yourself in the passion and energy of these traditional Irish sports.
20) Warm Hospitality
Experience the warmth and generosity of genuine Irish hospitality from the people of Kerry. Your holiday in the Kingdom will be a memorable one thanks to the friendly, good natured people you will meet.