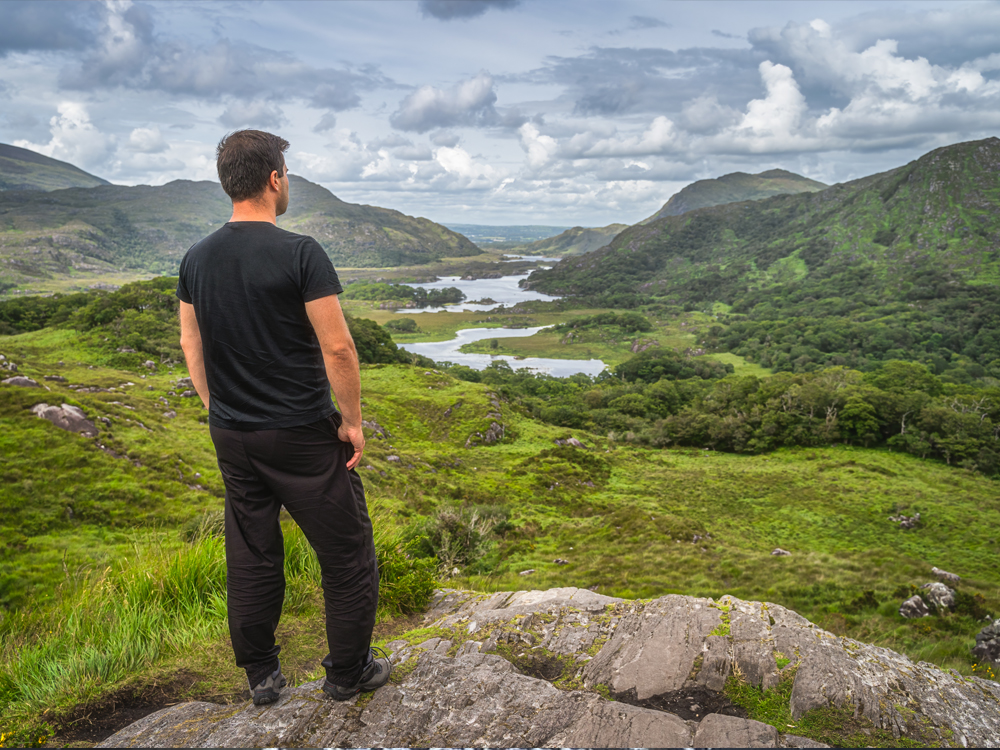 CLIMBING IN KILLARNEY
Home to the mighty McGillicuddy Reeks and Irelands highest peak, Carrauntoohil, it's no wonder so many visitors come climbing in Killarney.
With so much to offer the intrepid traveller we've compiled a handy list of our favourite climbs and days out that are a little different and will suit a variety of abilities.
Read on to be inspired for your next adventure.
Climb Carrauntoohil
Ireland's Highest Peak at 1,039m and one for the bucket list. Go with a pro (5-8 hours).
Difficulty rating: Strenuous
Walk Torc Mountain for the sweetest views of Killarney and The Old Kenmare Road.
Follow the sleepers to the top (2-4 hours).
Difficulty rating: Moderate
Mangerton Mountain
The epic Devil's Punchbowl is easy to navigate but its a long uphill slog most of the way (3-4 hours).
Difficulty rating: Strenuous
Climb the Purple Mountain from the Gap of Dunloe.
The path isn't obvious so map your route and bring a compass (4-5 hours).
Difficulty rating: Strenuous
Scramble Strickeen
For a quick elevation hit this is a great hike. You only have to climb 440m for panoramic views of Beenkeragh, Carrauntoohill, Dingle Bay & Peninsula, Cromane, Purple, Tomies, Killarney Lakes and the Gap of Dunloe. Start at Kate Kearneys (1-2 hours).
Difficulty rating: Easy-Moderate
Walk a Ridge on the Reeks
For a challenging, unforgettable day walk a ridge. Go with a pro – we recommend Kerry Climbing. They offer several routes so pick our beast and get going. Some routes can take up to 12 hours!
Difficulty rating: Strenuous
Abseil Over The Top!
Kerry Climbing run full, half day and evening abseiling courses suitable for absolute beginners to well seasoned rock climbers. They cater for students ranging from 8 to 91!
Difficulty rating: Easy-Moderate
Ever heard of Coasteering?
No? Let us introduce Mor Active Tours. They'll show you a day like no other! Mix a scenic cliff walk with an ocean swim and a test of your mettle! Feel alive and exhilarated! We can't recommend this enough!
Difficulty rating: Easy, but nerves of steel required!
What better way to soothe sore feet and tired legs after a day climbing than to immerse yourself and soak away the aches in the ocean. Click here to check out some great local natural swimming spots.