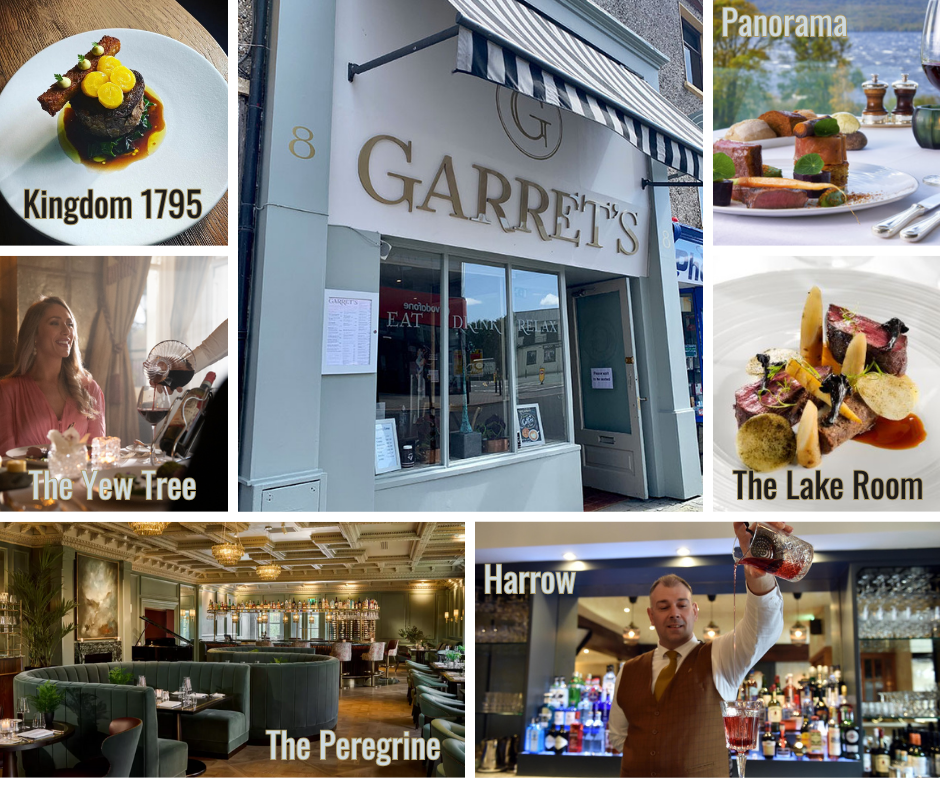 5 Star Dining In Killarney
If you're celebrating a special occasion, looking for a romantic setting or want to pull out all the stops to impress, lets talk about your 5 Star Dining options in Killarney, the crème de la crème of restaurants, if you will.
As the hospitality hub of the South West, Killarney is home to some of the finest talent in the country. Here we lay out the exquisite, upmarket and finest restaurants in town and beyond.
For a memorable dining experience read on to discover the best the Glorious Kingdom has to offer. Peruse, choose or indeed work your way through the entire list. 
Harrow
27 High Street – Open daily from 5pm-9pm
Chef John O'Leary uses the finest of locally sourced produce to create his eclectic menu that has a generous nod to classic French Cuisine. Prime cuts and local seafood is at the core whilst still stylishly catering for the non meat eaters. The extensive wine list and expert cocktails make the experience all the more enjoyable in the tastefully decorated surroundings. The early bird offers a three course meal with a glass of wine for only €49.50. An absolute steal!
The Peregrine at The Killarney Park Hotel
East Avenue – Open from Friday to Sunday 6:30pm-9pm
This stylish and elaborate new restaurant promises a unique experience to savour where your taste buds are delighted, your senses ignited and where magical moments take flight. The menu boasts exceptionally original cuisine that celebrates Kerry's finest produce and the cocktails are amazing! When you dine here you will be dining ethically thanks to the Hotel's strong ethos and commitment to sustainability.
Garret's
8 College Street – Open daily from 6pm onwards
The menu is varied and simple but with a twist, plates are delightfully presented, the service is second to none and vegetarians are well catered for. The vibe is casual and relaxed but Garret's has earned a spot in this 5 star list because of the kitchen's meticulous attention to detail. Choose from the A Là Carte menu or enjoy three beautiful courses from the early bird menu for only €37.
The Mad Monk
21 Plunkett Street – Open daily from 1pm-10pm
The Quinlan brothers present this cosy, stylish and much loved restaurant which is a firm favourite for locals and fish lovers. The menu is vast and packed with the freshest fish caught by the Quinlans from their very own boats out of Cahersiveen. The setting and the food is upmarket but there's a real relaxed and chilled ambience here. It's 5 star dining the Kerry way.
Panorama at The Europe
Fossa – Open from Monday to Saturday 7pm-9:30pm (March-October) – Open Sundays July and August
Gourmet food lovers will enjoy the farm to fork experience of the best of Kerry lamb and beef from the Hotel's own farm. The service here is impeccable and the view that stretches out before you of the lakes, mountains and well manicured gardens is simply unforgettable. The Europe truly is the ultimate in 5 star dining in Killarney.
The Lake Room at The Aghadoe Heights
Aghadoe – Open daily from 6pm-9pm – Sunday Lunch 1pm-3pm
Sample the finest in contemporary dining whilst enjoying the most spectacular views over the world famous Lakes of Killarney. You'll enjoy seasonal and fresh local artisan produce and marvel at the innovative dishes created by the talented chefs. Wine lovers will appreciate the extensive and superior wine list. 
The Yew Tree at The Muckross Park Hotel
Muckross – Open from Tuesday to Saturday 6pm-9:30pm
There are few places in the world where you can experience fine dining in the middle of a 25,000 acre National Park. Listed in the McKenna and Georgina Campbell Guides they also boast 2 AA Rosettes to their name. Great value fine dining too, €57 for two course or €69 for three.
Danú at The Brehon
Muckross Road – Open daily from 6pm to last sitting at 8:45pm
Head Chef Chad Byrne's menu offers fun, flavour and freshness. Enjoy vibrant small plates, hearty mains, signature favourites to quirky takes on classic dishes. The food here is a celebration of local produce, market fresh ingredients and a talented team. Vegans will be thrilled with an extensive gourmet menu to choose from. The set menu is great value at €37 for two courses and €45 for three.
The Tan Yard at The Plaza Hotel
Kenmare Place – Open from 7:30am
This casual yet exquisite venue has recently introduced an exciting new menu. Enjoy quality prime cuts and fresh local seafood whilst dining a wonderfully comfortable people watching location at the intersection of the National Park and Killarney's Main Street. It's not really 5 star fine dining but it's a classy joint with great views.
It would be remiss of us not to mention our pick of the best 5 Star Dining restaurants a little further afield from Killarney in our neighbouring towns.
Kingdom 1795
Main Street, Killorglin – Open Wednesday to Sunday from 6:30pm-9pm
The food here is sublime. It just hits different. Kingdom 1795 present an exciting menu, bold and simple all at the same time with an emphasis on top quality ingredients. Suzi is the perfect host and her partner Damien works his magic behind the scenes in the kitchen. Pay €49 for two courses or €59 for three and prepare to be blown away.
The Park at The Kenmare Park Hotel
Shelbourne Street, Kenmare – Open daily from 6:30pm-9pm
The Park brings together a collection of the finest local artisan producers. All fresh, seasonal and bursting with flavour. Combined with the expertise of their kitchen team and Sommelier you can expect a unique experience in one of Ireland's most elegant dining rooms.
No.35
35 Main Street, Kenmare – Open Friday to Tuesday 5pm-9:30pm
Boasting an array of awards and stellar reviews from industry big hitters such as Lucinda O'Sullivan, Georgina Campbell, McKenna's Guides, the Michelin Guide, the Irish Food Awards and the Irish Restaurant Awards, No.35 must be doing something right. Professional service, affordable food in a relaxed environment.  
Mulcahy's
Main Street, Kenmare – Open Tuesday to Saturday from 5pm
Included in the Michelin and Georgina Campbell's Guide Books as well as being ranked in McKenna's 100 best restaurants in Ireland. Their food is strong and bold with an emphasis on simplicity. Expect the best of produce served in a relaxed environment.
Jack's Coastguard Restaurant
Cromane, Killorglin – Open Monday, Wednesday to Sunday 5pm-9pm – Sunday Lunch 1pm-3pm
An award winning restaurant and wedding venue nestled in the stunning Castlemaine Harbour. Specialising in seafood, you can expect the freshest of fish and local produce served in a stunning and laid back setting.