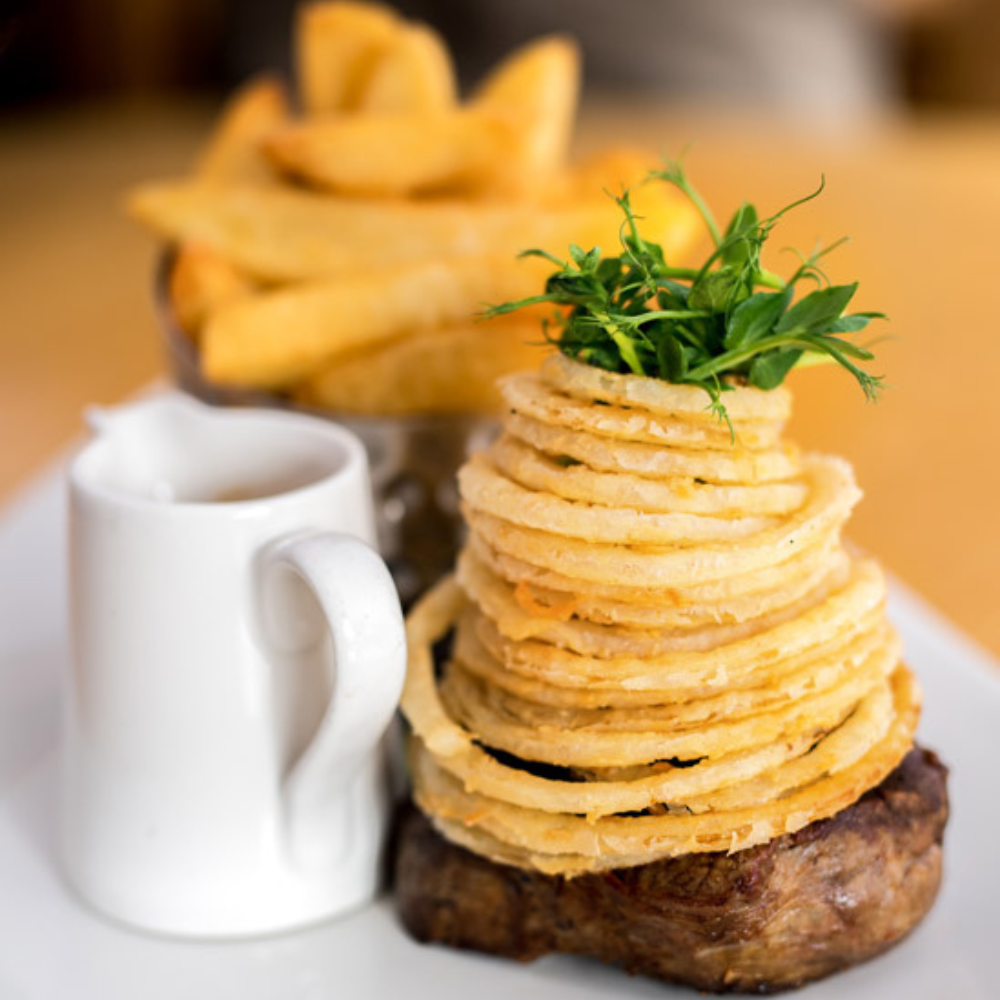 THE BEST BAR FOOD IN KILLARNEY
Let us take you around town and show you our favourite spots for the best bar food in Killarney.
From 5* hotel chic to honest pub grub fare, Killarney offers a great plate for every palate so read on and let us whet your appetite!
In alphabetical order:
The Failte Hotel, College Street
The O'Callaghan family have been feeding the masses since 1960. 
Their menu is varied, the cuts of meat unreal and the portions are big. You have been warned, you won't leave hungry!
One of the few places serving full Irish breakfasts at the weekend. Lunch and dinner is served in the bar throughout the day every day too. 
Great for wings and steak (pictured above). Try the featherblade beef special for a real melt in the mouth piece of slow cooked heaven.
The Lane Bar, 2 Brewery Lane
This quirky cocktail bar showcases a fun, imaginative menu full of variety and flavours from around the world.
They serve casual pub food with a contemporary twist.
Plant based diners will be delighted to have a full proper vegan menu to choose from.
The Lane is one of our firm favourites day and night. Serving food until 9pm during the week and 9:30pm at weekends.
The Laurels, Market Place
The O'Leary family have been at the helm of this traditional pub, slap bang in the middle of town, for almost a century.
They cover so many foodie bases: a full Burger and Pizza menu as well as lunch and evening menus.
The food is always excellent and the service always professional and friendly. The fishcakes are amazing.
The Back Yard at The Laurels is a cool outdoor dining space and well worth a visit.
McSweeney Arms Hotel, College Street
Enjoy sublime breakfast options at the K Kafe while lunch and dinner are served in the cosy and impeccably polished Sand Trap Bar.
The menu is extensive and their cuts of local meat are some of the best in town. Try out the steak or a stew to be impressed. 
Vegetarians and vegans are well catered for with an impressive selection of options.
Murphys Bar, College Street
Another long standing family run locals favourite.
Open every day serving breakfast, lunch and dinner. Murphy's turn over a high volume of food so you can be sure everything is fresh and tasty.
Try the chowder, wings, salad bowls and burger, perhaps not all in one sitting though. Save room for the apple pie, it's the best in town.
O'Donoghue's, College Street
A brand spanking new menu serving lunch and dinner in a classy setting.
Try our favourites, the steak sandwich, fresh cod or the gut busting mixed grill before sitting back to enjoy fantastic live music for the night. The Sunday Roast Beef is exceptional.
Prices are a little high but the quality makes it a worthy investment.
The Garden Bar at The Park Hotel
This is 5* in the best possible way. Attentive service in top quality surroundings with a relaxed and friendly vibe.
The menu offerings are few but varied and priced very affordably. 
It's hard to pick between the fresh fish & chips and comforting curry so sip on a beautifully made cocktail while you mull it over.
The Royal Bar & Bistro, College Street
This hotel Bar & Bistro oozes sophistication.
Their menu is bursting with so many great options you might take a while to decide.
The crabmeat starter and beef stir fry are two reasons to keep going back.
The Tatler Jack, Plunkett Street
A locals hot spot serving all the pub grub classics. Lasagne, burgers, pizza, toasties, goujons as well as daily specials.
Every Monday you can enjoy the nations favourite, Bacon & Cabbage. Served on a big plate with buttery spuds, just like your mammy makes it.
And if you fancy some fresh air and a stroll to aid digestion after your lovely meal click here for some easily accessible walks from town.