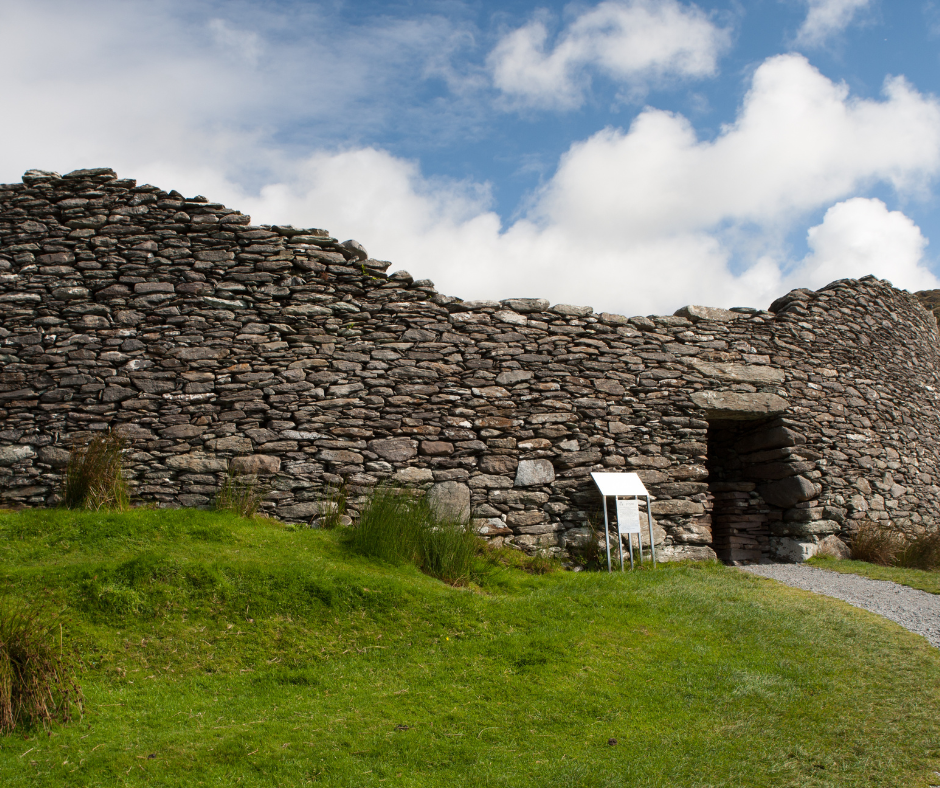 Historical Ring of Kerry – Staigue Fort
Staigue Fort is a ruined stone ringfort on the famous Ring of Kerry, west of Sneem on the Iveragh peninsula.
The fort is one of the best examples of an ancient pre-Christian ringfort. Its size is truly impressive! The walls are over five metres high, four metres thick and it is nearly thirty metres in diameter. 
Staigue represents a considerable feat in engineering. It was built without mortar using undressed stones. Vertical joints visible in the wall show that gaps were left during the building of the wall to allow access and were filled in later. There is also a tapered, lintelled doorway and inside is an elaborate network of stairways.
There is uncertainty over the age and purpose of Staigue Fort. Some sources say it was built around 400-600 AD while others claim it dates back to the Bronze Age.
The south facing doorway suggests it may have once been an astronomical observatory. Some say the fort was the residence of an important chieftain. Evidence also shows that copper was excavated in the surrounding area and so the fort may have been of use then.
The purpose of the fort certainly changed throughout the centuries from a place of worship to a place of defence and much more in between. All we really know is that the exact historical details remain a mystery! 
Staigue Fort is located about 3.5 km north of the Ring of Kerry between Caherdaniel and Sneem and is well sign posted. Follow the narrow road, it will take you up towards the mountains.
You won't be able to see the ringfort until you are nearly there because it lies well nestled in the mountain valley. Park up in the car park, from there the fort is just a short walk.