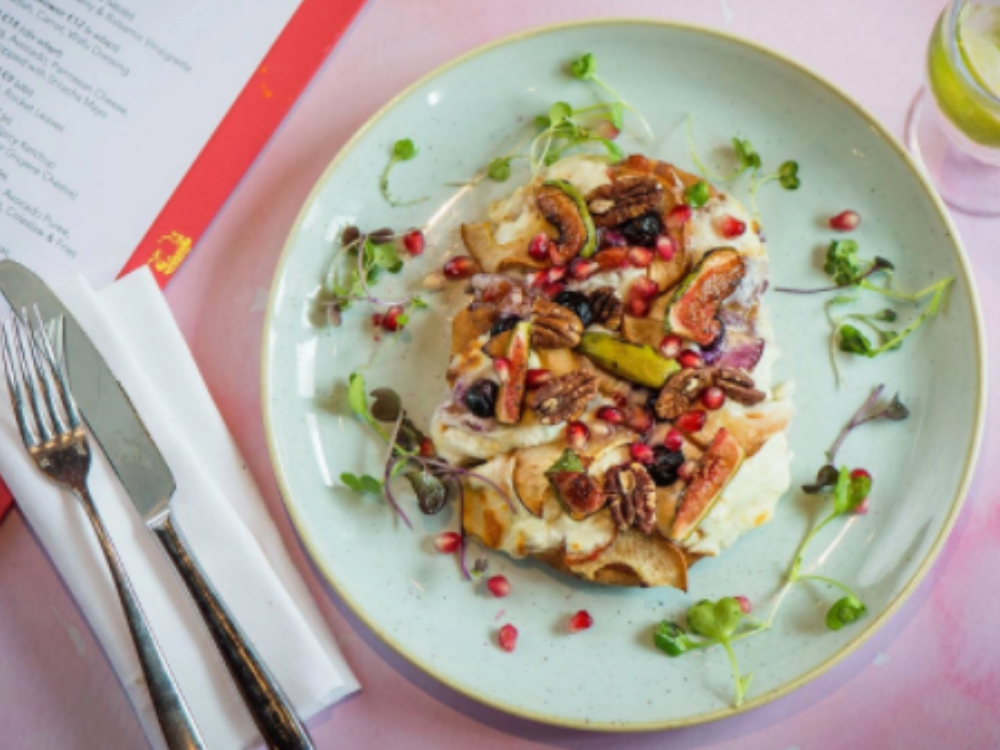 A-Z Restaurants In Killarney
We've compiled the ultimate A-Z listing of restaurants in Killarney.
The perfect starting point to help whet your appetite.
Aghadoe Heights Hotel, Aghadoe – 5* service, 5* views and a whole host of top quality options to delight your palate.
Black Sheep Coffee Shack, New Street – Speciality coffee, divine cinnamon rolls, chocolate and scones. They have loads of outside seating too. Perfect after a stroll in the Park 
Bombay Palace, College Street – The tastiest Indian classics served with a smile by Billy and his team.
Bricín Restaurant, High Street – A real homely joint. Their Boxty is famous and the homemade brown bread is something else! Have a mooch around their lovely craft shop for a souvenir.
Brown Sugar Café, Park Road – Wholesome hearty breakfast and lunches. Big portions and loads of options. The dessert offering is mouth watering.
Cahernane Hotel, Muckross Road – A beautifully peaceful setting. The menu is varied, the steak is great and a nightcap in the gorgeous basement bar is a must.
Caragh Restaurant, New Street – Something for everyone on the menu. This cute crowd pleaser has been going strong for decades. The trout is the finest in town.
Casita Mexicana, New Market Lane – A pleasing mix of local produce and authentic Mexican flavours. Spice up your life!
Celtic Whiskey Bar, New Street – A varied modern menu featuring tasty plates that go well with their impressive selection of whiskies.
Cellar One, Kenmare Place – European influenced menu in a glamorous setting to the sounds of a live piano. Great natural wine selection.
Curious Cat, New Market Lane – Breakfast and brunch by day, wine bar and casual Mediterranean dining by night. A hidden gem.
Cronins Restaurant, College Street – They've been serving the best of genuine Irish cuisine for decades and they do it very well. A must!
Danú Restaurant, The Brehon Hotel – Fun, flavourful and fresh in a relaxed, casual setting. The team impress with an adventurous menu.
Eddie Rockets, New Street– An All-American diner with the tastiest malt shakes and a jukebox at every table! Play it again Sam.
Eleven 77, Muckross Road – This take away food truck knocks out some really good food. Worth the queue! The Indian Roll is unreal. (CLOSED BUT HOPEFULLY BACK SOON)
Foleys Townhouse, High Street – Delighting guests with a fusion of fine French and Irish cuisine. The focus is on fresh produce. A real classic.
Garret's, College Street – Clean, crisp and stylish restaurant serving brunch, lunch and dinner. The menu is casual by day and cranks up a sophisticated notch in the evening.
Genting Thai, Beech Road – There is usually a queue for a table so book ahead! A veritable feast of options served quickly and with a smile.
Golden Chopsticks, Scotts Street – For every kind of Asian food this is your one stop shop. An extensive crowd-pleasing menu in a comfy setting.
Heather, Dunloe Upper – A real farm to table artisan food hot spot. Every dish bursts with flavour. Save room for cake! One of our absolute faves in a stunning location.
Hannigans Bar, Kenmare Place – Consistently good food in a charming hotel bar setting. Enjoy the open fire and great service.
The Hungry Donkey, Private Catering Until Summer – Follow on Instagram for locations. Food truck serving top notch tasty specials as well as tacos, hot dogs and spice boxes!
Hugga Mugga, College Street – Great coffee and loaded waffles to go. They're quick, they're a bit naughty but they're so good!
JM Reidys, Main Street – Great salads and burgers in a gloriously restored olde world bar. Stay for the cocktails and live music after dinner.
K-Town Bar and Grill, Beech Road – Open for breakfast from 9:30am and serving a huge variety of hearty grub all day long. Choose from steak. nachos, wings and loads more.
Kate Kearneys, Dunloe Upper – The pub is cosy and the food is hearty. Live music and Irish nights will keep you entertained well into the wee hours.
Kasi Café, Beech Road – This place is all about sustainable, environmentally friendly, locally sourced, organic produce. Everything taste great. You must try!
Kaynes Bistro, Muckross Road – Loads of choice on the menu. The Fish Pie is a showstopper. This well presented bar hosts a local crowd.
Kenmare Rooms, East Avenue Hotel – If you like a good feeding this is your place. Beautiful roast dinners, big portions. You won't leave hungry!
Killarney Brewery, Muckross Road – A mouth-watering selection of wood fired pizzas washed down with a cold Killarney brew. Casual, cool, quality.
Kitty's Kitchen, New Street – Old school traditional Irish cooking with healthy, vegan, vegetarian and halal options.
Kitty O'Se's, College Street – An abundant Seafood and Grill menu. Great food, friendly staff and huge windows to people watch while you dine.
Killarney Park Hotel, East Avenue – 5* food in a relaxed setting. The menu is varied, reasonably priced and impeccably executed. A highly recommended favourite not to be missed.
Kaoh Asian Street Food, High Street – Tasty, fresh and vibrant. Lots of options and great value to dine in or take away. Opened until 10:30pm.
Lana, College Square – From the streets of Asia to the streets of Killarney Lana promises to warm your heart and taste buds. The décor is punchy and colourful.
Little Italy Pizzeria, New Market Lane – Authentic Italian cuisine at its best. Original recipe pizzas fired up in a wood fired brick oven, lasagne, pasta. Mama mia! Go all out and try the tiramisu.
Lir Café, Kenmare Place – Grab a coffee and a sweet treat at the Jarveys favourite hang out. Take a table outside and watch the world go by.
Luna Deli & Wine, Brewery Lane – Deli by day and wine bar by night. Simple baguettes, salads and more all bursting with flavour and great barista coffee. Open until 9pm Saturdays.
Major Colgans, Muckross Park Hotel – Nice historic bar with a big menu to choose from. It sits beautifully, right at the gates of the National Park.
Manna Café, Old Market Lane – Enjoy breakfast, lunch and Sunday brunch in this casual Bistro style eatery.
Marguerites, High Street – This restaurant and coffee shop serves wholesome breakfast, lunch, dinner and wait for it… has its own fresh cake counter. Enough said!
McSweeneys Arms, College Street – Top quality steaks, stews and loads of veggie options served in the impeccably polished Sand Trap Bar. Just lovely.
Milanos, Main Street – Italian pizza perfection in the heart of Killarney town. The food is always good and the atmosphere always buzzing.
Mizu Modern Japanese, High Street – Mizu's menu is vast and varied. The food is deliciously fresh and the open kitchen creates a cool, buzzy atmosphere. 
Mug & Bean Café, Beech Road – For a fresh breakfast and hearty lunch classics this unassuming little café won't disappoint.
Murphy Browns, High Street – A cosy restaurant with a relaxed vibe. The eclectic menu is all about diversity with a local influence. Go once, you'll be back for more!
Murphys Bar, College Street – Another town stalwart. The daily roasts, veggie options and chowder are mighty but long live the toasted special!
Noelles Café, Old market Lane – Quirky, colourful retro café banging out tasty breakfasts and brunches. The pancakes, coffee and smoothies are sublime!
O'Donoghues Bar, College Street – Great two course meal value. Go in for lunch stay for dinner and enjoy the live music!
Panorama Restaurant, Europe Hotel – 5* in every sense. Farm to fork experience in the most fabulous setting overlooking the mountains and lakes of Killarney.
Petit Delice, High Street – Breakfast, brunch and dessert coffee shop. The beautiful patisserie display is impossible to ignore!
Piccolo Pizza, New Street – Unpretentious, relaxed setting and food packed with authentic flavour. Signature dough is made fresh daily using the finest Italian flour.
Quinlans Fish & Chips, High Street – Fresh fish caught every day from their very own boats. The chips are unreal and the portions are generous.
Rob's Ranch House, Plunkett Street – Western style family restaurant. The fajitas, nachos and ribs are popular. Extensive gluten free options.
Rozzers, Kileen House Hotel – Voted #1 restaurant on Trip Advisor and for good reason. The food will delight and the hosts are real pros! Great value too.
Salvadors & Robertinos, High Street – Irish-Italian casual dining in a gorgeous contemporary space. Pizza, pasta, burgers, salads, mains, light bites and more.
Scotts Bar, College Street – Real deal pub grub with a gastro twist. The menu has something for everyone.
Stonechat, Flemings Lane – A romantic and cosy spot serving big flavour dishes. Great service and after dinner cocktails. The tiramisu is worth the splurge.
Tatler Jack, Plunkett Street – Burgers, mains, salads and sharing plates. Pub grub at its finest! Daily specials to note: Bacon & Cabbage. Just like your mam makes it!
The Brasserie, Europe Hotel – Enjoy the lake and mountain views while you dine in style. The menu is varied and the prices are very reasonable.
The Caddyshack, The Courtyard – Grab a fresh homemade pizza and sip a cocktail while you put some balls at crazy golf. A bit of fun for all the family.
The Crêpe House, Old Market Lane – Sweet and savoury pancakes that look great and taste even better. Tea, coffee and hot chocolates served all day long.
The Fáilte, College Street – Casual pub grub served in the Bar, a bit more fancy up top in the Restaurant. For quality, quantity and great after dinner music, this is your spot.
The Flesk, Main Street – A town mainstay for years. The menu is simple but very well done. Great taste, great portions, great price. You can cut the steak with a spoon.
The Golden Nugget, Fossa – Honest to goodness wholesome fare. Their amazing new extension means you'll never queue for a table and will have plenty of room.
The Grill Restaurant, Dunloe Hotel – The finest of local produce with a creative twist. Enjoy the buzz with a view of the majestic Gap of Dunloe.
The Lake Hotel, Muckross Road – Non-residents are welcome to enjoy this bistro at the foot of Muckross Lake. Great food with a great view. Peaceful bliss.
The Lane, Kenmare Place – Their upmarket bar offers an imaginative menu packed with variety and flavour. The chicken curry is a best seller. A cool spot and one of our faves!
The Laurels, Market Cross – You'll find a pleasing mix of options on their extensive menu. Always top quality, always great service and a cosy open fire in the winter.
The Mad Monk, Plunkett Street – The dishes are so fabulous ordering can be a struggle! Stylish décor, laid-back vibe and lovely staff hit the high notes every time.
The Mayflower, College Square – A no frills Chinese crowd pleaser to dine in or take away. The quality is high and the price is reasonable.
The Plaza, Kenmare Place – Stylish Café Du Parc offers breakfast, brunch, lunch and dinner. The Tan Yard upstairs operates a casual yet exquisite experience.
The Porterhouse, Plunkett Street – Simple toasties at lunch to banging chargrill cuts of meat at dinner. This stylish gastro pub is a busy spot so get in early for a table.
The Royal, College Street – A welcoming and elegant family run hotel. Dine in the Candle Room or the Bistro and try the Beef Stir Fry for a taste explosion!
The Shire, Michael Collins Place – A great bar and café serving breakfast, burgers and much more. Sip a cocktail under their weatherproof terrace and watch the world go by.
The Spúnóg Takeaway, Cork Road – This ain't no regular burger joint! Daily specials, gourmet burgers, subs, loaded fries and homemade chips. Great taste and super value.
Treyvauds, High Street – Killarneys celebrity chef loves food. Let him wow you with his international and seasonally inspired menu in an intimate, relaxed setting.
Usmania, High Street – This restaurant may look quiet but always delivers on taste and value. They run a busy takeaway service too.
Vendricks, Fair Hill – With an array of tapas, small plates and stand out mains to choose from this luxurious restaurant prides itself on locally sourced produce.
Victoria House, Muckross Road – Enjoy cocktails, nibbles and a top class dinner in the Ivy Lounge. A delightful setting, both elegant and relaxed.
For A More In Depth Look At Our Favourites
Check Out Our Handy Guides Below: